Wednesday, March 16, 2011
Posted by

mistypoe
at 2:37 PM
1 comment:


I'm trying out a new app that I can use from my iPhone.
This week I have been working on completely redoing my website. Please check out my progress at: www.mistypoe.com.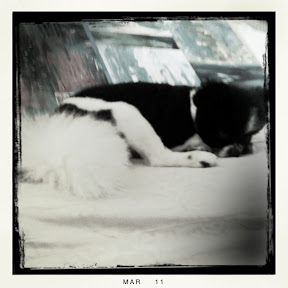 -and here's a pic of sweet little Tigerlily napping while I was working. ;-)
Posted by

mistypoe
at 10:54 AM
2 comments:


Tuesday, March 15, 2011
Just added three paintings to my
Etsy shop!
Check them out. :)
Posted by

mistypoe
at 5:01 PM
No comments:


Sunday, March 13, 2011
There is nothing quite like spending time cleaning up and planting a garden. I love it. Today, I picked up a little color, and some herbs to tuck into my little garden. First, I have to weed it, and add some fresh soil. I hope to get some pics of my hard work up later this week.
For now, here are some pics of a lovely and sweet bouquet of roses I was given yesterday. (love them)
I'm also going to have to get my little water gardens in order since it is warming up. Yay for spring! :)
Posted by

mistypoe
at 12:13 PM
No comments: